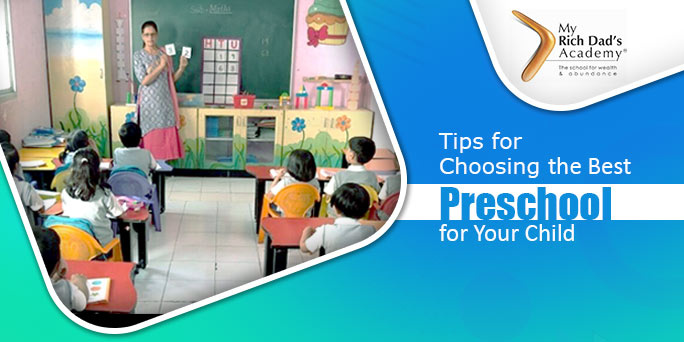 Hooray! Your toddler is all set to join preschool for the first time. This feeling is special for parents. The beginning of education years with a preschool that can help your child grow interested in learning is crucial. This is where most parents feel the pressure. Metro Cities are filled with preschools, but the question is – Which Preschool in Jalna is ideal for your child? Let's check out the tips for choosing the best preschool that suits your child's needs.
The Preschool Location
Your child is taking their first step in the outside world without you. Would you prefer making your child travel for hours for a preschool in Jalna? Of course not! This is the beginning of children's school years. Try to find a preschool near your home. It will save lots of time, help your child stay motivated to attend class the next day, and ensure that you are nearby whenever your child needs immediate help or care. One step at a time for your little one!
Infrastructure & Facilities
Yes, it matters! Some kids need more space to enjoy their fun activities, while some like to spend time in one place. Choosing a one-room preschool is not a good choice if you want to give your child holistic development. Choose a preschool with ample playing space, exciting classrooms. The play area keeps children happy & active. It's even better if the preschool has a pick-up and drop facility. It makes parent's work easy and helps children to learn to travel without parents. This habit is good for children's future years of education.
Teaching Patterns & Future
Imagine you enrol your child to preschool in Jalna, let's say- EuroKids. Now, EuroKids is one of the finest preschools in India that offers international standard education for kids in Nursery, Kindergarten and Pre-primary schooling. Indeed an excellent option for your child. Plus, EuroKids Jalna is associated with MRDA School, one of the best ICSE Schools in Aurangabad. Children can get high-quality education in their initial days of learning. Once they complete preschool, the direct admission to MRDA ICSE school eliminates the hustle for admission in school. Sounds great? It would be best if you gave such preschools a try. We're sure you will be proud of the way your child performs academically & in extracurricular.
Preschool's Credibility & Safety
As we said, metro cities are filled with Preschools; parents need to pay extra attention while taking the final call. Not every school is a good fit for your child. In fact, check for your child's safety in the preschool ambience. Preschool students are small. It is your responsibility to ensure they learn in a safe environment. You can also check with fellow parents, alumni's parents about the preschool. The honest reviews often come from one to one interactions. If things look good, go for it!
Parent-Teacher Interaction
Communication is the key to setting the proper foundation for a child. Preschools maintain effective communication with parents in the form of daily updates, PTA Meetings, and gatherings. Check your shortlisted schools for all these factors. You need to know how your child is performing academically, socially, and physically. Stay in touch with the teachers!
The hunt for the right preschool will surely end soon once you find all these features in one preschool. Don't rush; make a wise decision. EuroKids Jalna is associated with our school MRDA, one of the best boarding schools in Aurangabad. Students who enrol to EuroKids get direct admission in our school from standard 1st.
EuroKids offers a great environment to explore and learn new things every day like no other Kindergarten. Launched in 2001, EuroKids has significantly changed the face of preschool education in our country. Excellent education, technology-enabled learning, kids-friendly preschool premises, impeccable guidance by Teachers make EuroKids the first choice of many parents who aspire to give their children holistic development from day one. Children get multiple avenues to learn, grow and blossom with such an excellent Preschool. EuroKids' International standards of education and MRDA's ICSE curriculum gives students' academic career a boost of quality education. Our students are not afraid of challenges. In fact, they overcome it with the help of our hands-on learning approach, the practice of abundance, and the discipline we inculcate in young minds from a tender age.
Enrol your child to our Preschool & School to open their doors to a bright future.
ADMISSIONS OPEN FOR THE ACADEMIC YEAR 2021-22. Enquire Now!