My Rich Dad's Academy (MRDA School) established in the year 2009 is a co-educational English-medium day cum boarding school from Play group to class Xth affiliated to Indian Council of Secondary Education (ICSE). It is located on the outskirts of Jalna city, 45 kms from Aurangabad airport [ Maharashtra].
It is spread over 23 acres of green land on Mantha bypass in Jalna. The school has state of the art student friendly infrastructure and a homely hostel environment which encourages sports and extra-curricular activities along with academics.
MRDA has been established with a vision "To Nurture the Mindset of a Compassionate Wealth Creator". We are on a mission to nurture the mindset of Abundance in all children.
We believe that every student's 'SEED' is Unique. MRDA helps them to blossom into their unique personalities combined with a 'Mindset of a Compassionate Wealth Creator', thereby gifting the world with a Healthy, Wealthy, Loving, Blissful and Spiritual Human being.
'Rich Dad' in the school's name signifies – God / Cosmic Intelligence / Our ultimate Creator, who is richly abundant in all aspects of Life – i.e. Healthy, Wealthy, Spiritual, Loving & blissful. And when you believe that you are a part of that whole (your ultimate Dad), thereby your mind and soul is tuned to live by the creator's message. Hence the idea is to 'feel Rich' about everything in life.
The school logo of a boomerang symbolizes the 'Law of Karma', i.e. Life is a Boomerang! What you give, comes back to you.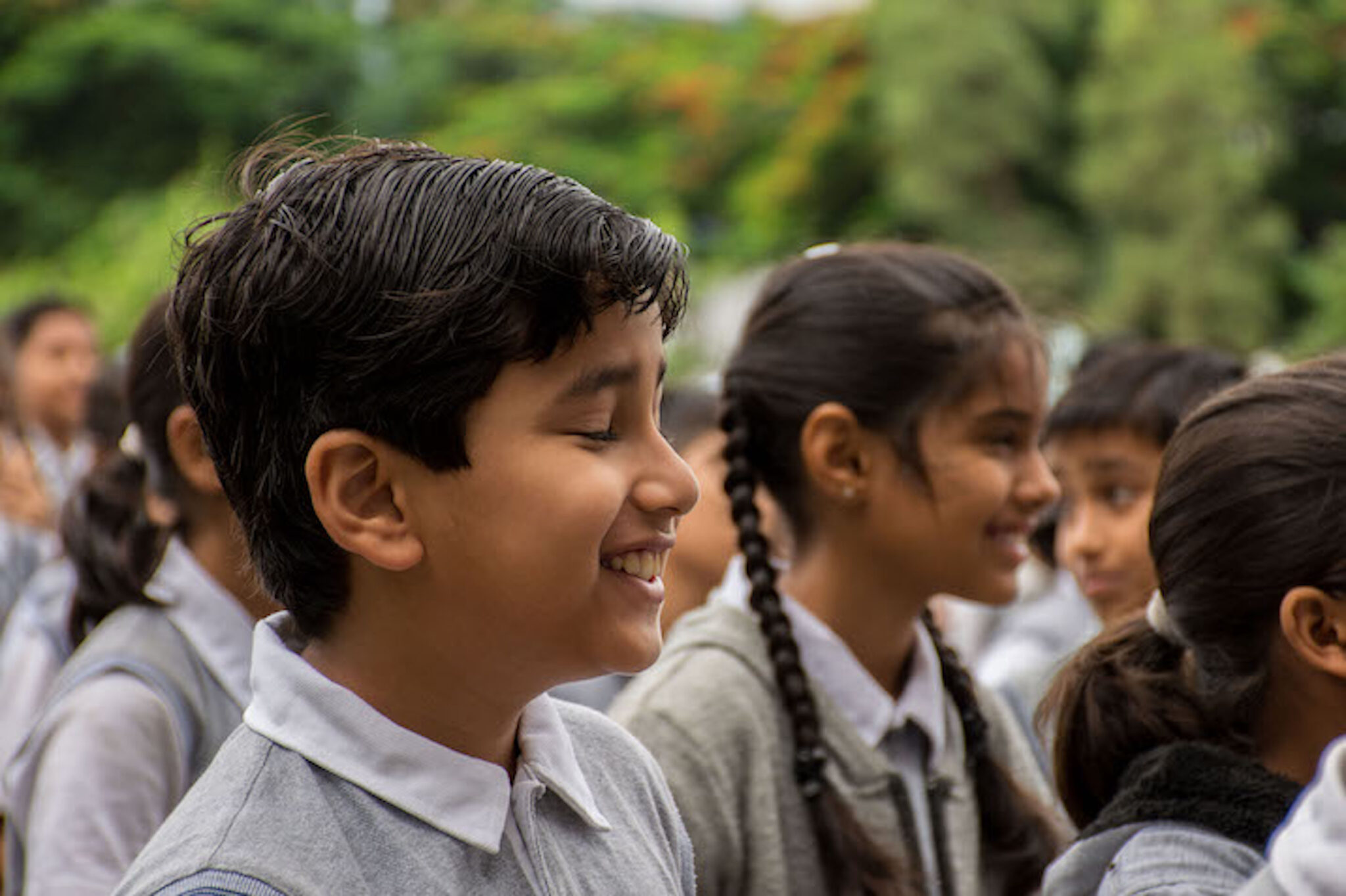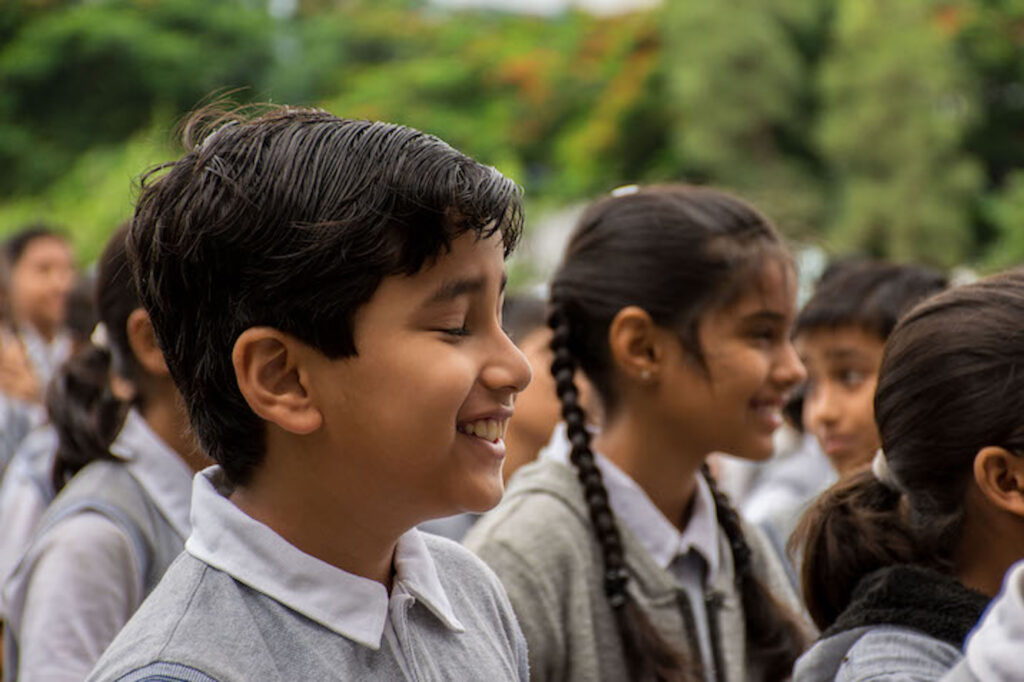 Vision
To Nurture the Mindset of a Compassionate Wealth Creator.
Mission
To build an abundance mindset in children in all aspects of life and make them aware of their uniqueness and self-worth through our researched pedagogy.
At MRDA our focus is on nurturing the mindset of a 'Compassionate Wealth Creator' along with Academic Excellence.
Our endeavor is to nurture HABITS that could lead to discovering one's own bliss and fulfillment by cultivating an environment and culture conducive to building a strong self-image full of confidence wherein our students acquire :
The habits of working in a team;
The habits of happiness & abundance;
The habits of fulfilling relationships;
The habits of wealth creators;
The habits of a spiritually balanced person.
In our association, every child gets the benefits of excellent academics besides core values of life, uniqueness of character, fulfilling pleasure and sound personality which are of course, rare indeed elsewhere.
GREEN CAMPUS
The management had a vision to build a school which feels like a resort full of greenery and nature. This reflects entirely throughout the campus through many features like the garden classrooms, sundial arena, shady pathways, green lawn sit outs, farm lands, huge trees all around and seasonal flowers throughout the year. Every ex-student misses Learning amidst Nature at MRDA.
Various building in the campus are Admin Block, Academic Block, Staff quarters, Hostel and Canteen.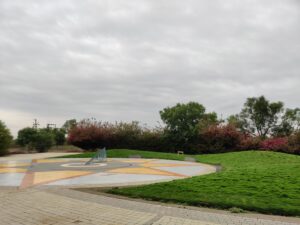 GARDEN CLASSROOMS
Apart from having spacious digitized classrooms with separate lockers for each student, the unique feature about our classrooms on the ground floor is that each class has an attached private garden. This gives a different dimension to learning outside the class room amongst the greens, it helps in refreshing the minds of children and breaks the monotony of all learning happening in the four walls of classroom.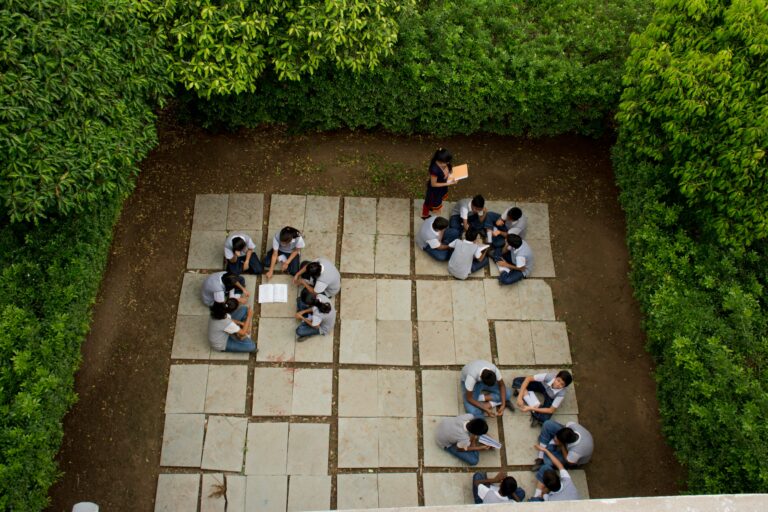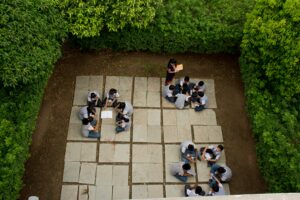 LIBRARY
MRDA believes that an on-campus library is integral to the teaching and learning process. We have a big library space in the quietest corner of the academic building. The library amasses an enormous collection of books ranging from Spirituality, Literature, Science, Marketing, Philosophy, Architecture and Storybooks for kids and Novels, newspapers, journals, research papers, and various question papers from the previous years that assist the students in their academic preparations.
We are planning an outdoor open library soon under the canopy of huge trees in the campus which will be away from the hustle bustle of the classrooms.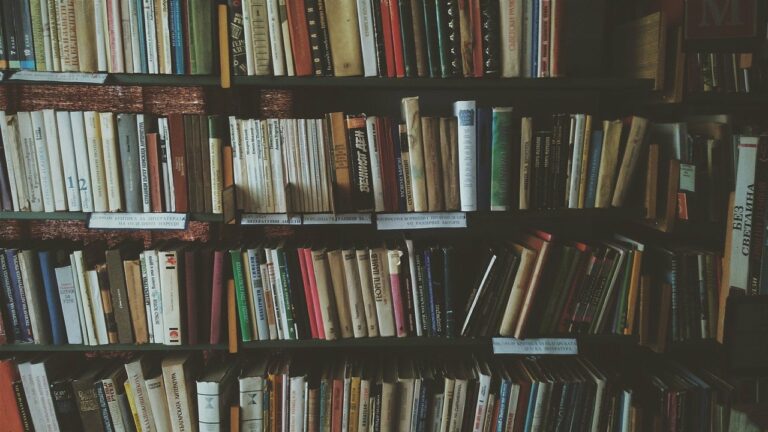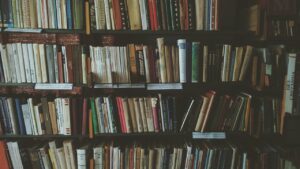 LABORATORIES
MRDA believes in nurturing a child's inner researcher and scientist through well-stocked laboratories. Our labs are used for imparting knowledge in Physics, Chemistry, Biology, Computer Science, English and Mathematics. These laboratories are well stocked with sufficient chemicals, models, charts, specimens and a variety of equipment to provide best opportunities to carry out scientific and technological investigations. Experienced and qualified teachers oversee and guide the students in their experiments. Every child's safety while handling chemicals and carrying out experiments is duly taken care of.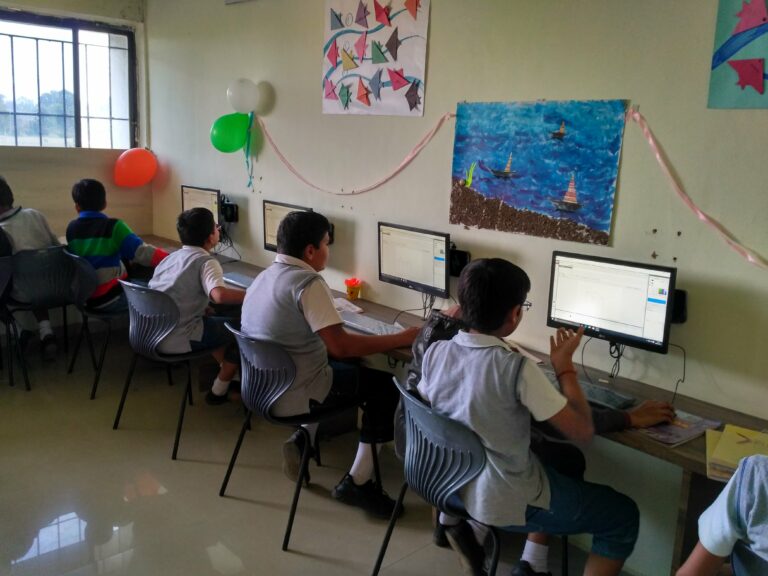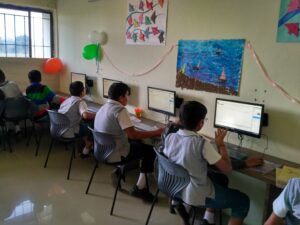 CREATIVE CORNER
The school provides ample opportunities for dance, music, drama, singing, drawing, painting and other kinds of crafts. This is to ensure the development of overall personality by encouraging skills, creative thinking, communication skills, gross and fine motor skills etc. We have separate spacious rooms for Arts, Music, Dance.
We have fully equipped music rooms for tabla, drums, keyboard and a special section for choir recitals. We have a wide range of instruments from Indian classical like sitar, harmonium to western instruments like drums, guitar and keyboard. Dance room is equipped with music systems and mirrors. We have a full time well-trained dance teacher, skilled for various forms like Bharatanatyam, Hip-Hop, Bollywood, Western and Zumba.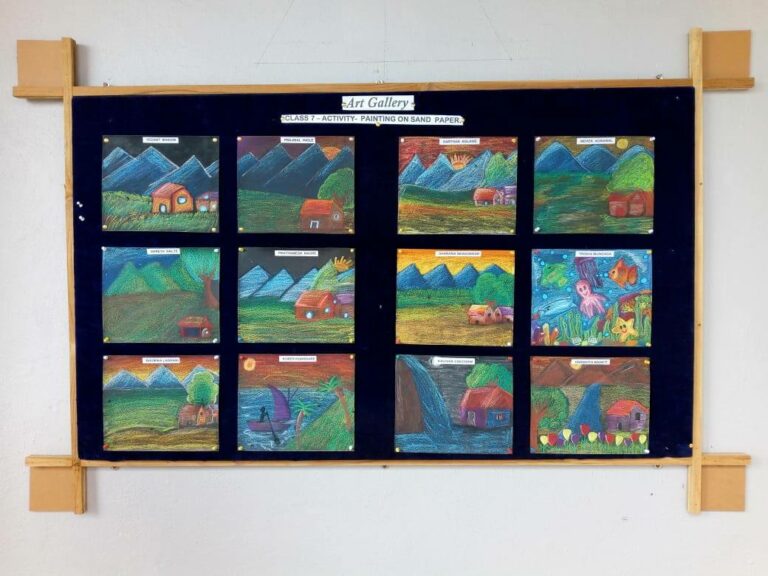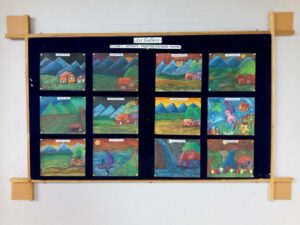 CANTEEN
A well-kept school canteen provides healthy and hygienic vegetarian food under the guidance of a nutritionist. Our tasty canteen food is definitely one of the highlights of daily routine for the students. It offers breakfast, lunch, evening snacks & dinner every day.
The secret to the tasty food is that, instead of appointing external cooks (Maharaj), the school has trained local Maushis over the years who have a passion for cooking and attain great joy by feeding children. It gives the food a motherly touch making it tasty and yet balanced diet for school children. The cafeteria offers a different menu every fortnight for breakfast, lunch and evening snacks and dinner.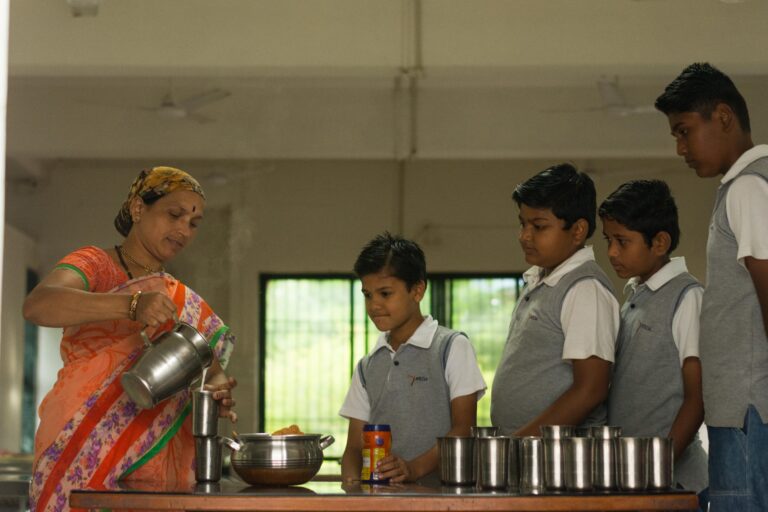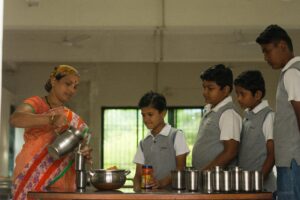 HOSTEL
MRDA offers boarding from class 3 onward with twin/triple sharing attached bath & toilets and 24×7 security is provided. The hostel rooms are spacious and furnished with comfortable beds, allotted on a sharing basis of two or three students per room and larger dormitories for primary students. The residential facility houses a TV, recreational indoor games and a common study area.
There are separate dorms for boys and girls. Each dorm is handled by a dorm-parent who looks into children's wellbeing and studies.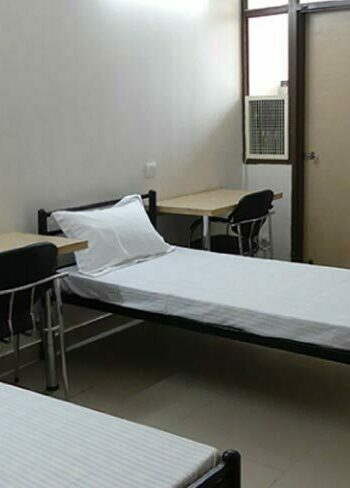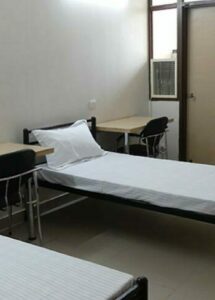 STAFF QUARTERS
Being the only ICSE school in entire Jalna district, we mostly source quality teaching staff from the metros. All these outstation teachers are provided furnished 1 & 2 BHK flats inside the school campus in the staff quarter buildings. These teachers who stay on campus also conduct study preps and remedials for the boarders on campus after school hours.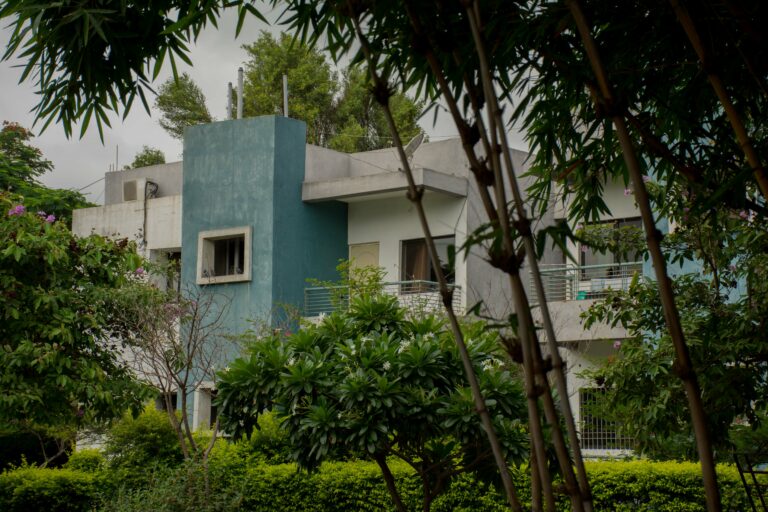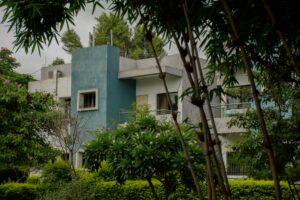 FARM LANDS
We believe that every child should building a connect with mother earth. The children are actively involved into cultivation of the produce. Apart from learning how to grow vegetables and other agricultural produce, it purifies the soul and nurtures love and respect for the food they consume daily. Vegetables, cereals and wheat are organically cultivated on our farms which adds value to our homely nutritious canteen food.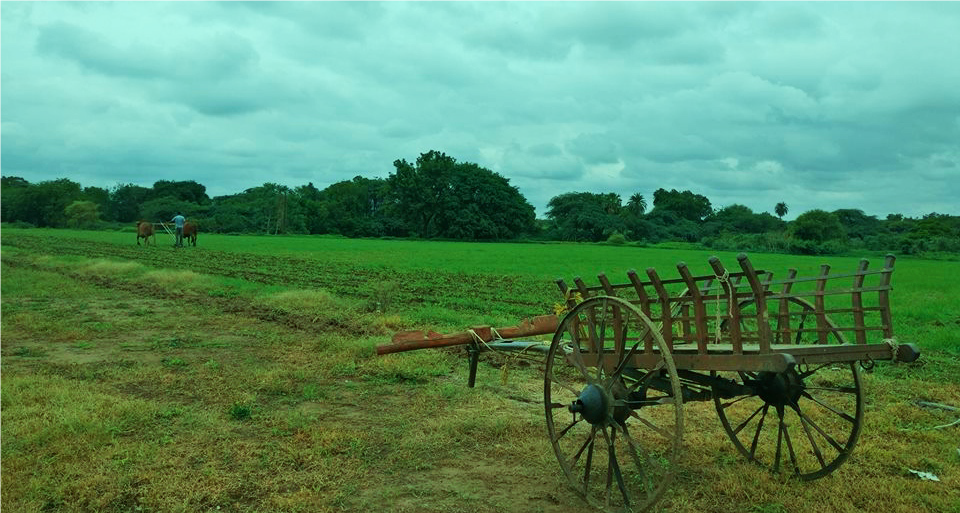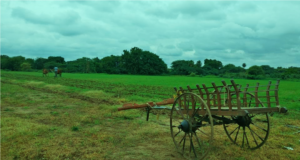 OPEN APHITHEATRE
We have a grand open amphitheater where all the school events are conducted with a seating capacity of more than 1200 people. The open center façade of the Academic block is used as a huge stage overlooking the ground where the audience is seated.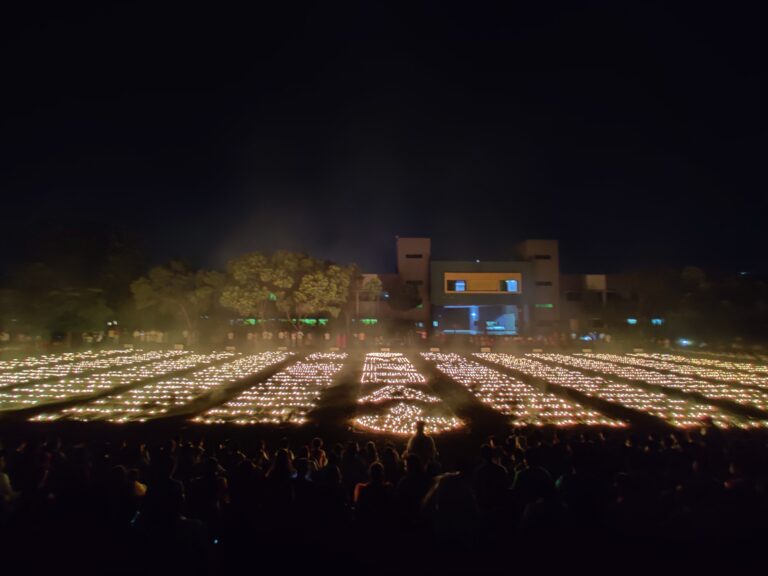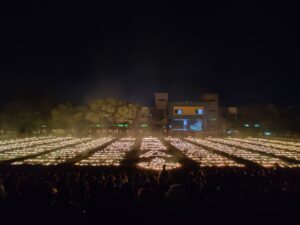 SPORTS GROUNDS
The school playground is one of the most important places in our young students' lives. From the time that children start preschool, all the way through the end of senior school, the playground is the main place where they spend breaks and recess.
MRDA has special coaches, grounds and infrastructure and offers the following sports: Skating, Roll ball, Athletics, Cricket, Basketball, Football, Volleyball, Yoga, Baseball, Karate and many rural games. Table Tennis, Chess, Carom, etc. are offered as Indoor activities.
The school employs professional coaches who have the expertise and passion. Children are trained and prepared for intra and inter school competitions and also on a district and national level.