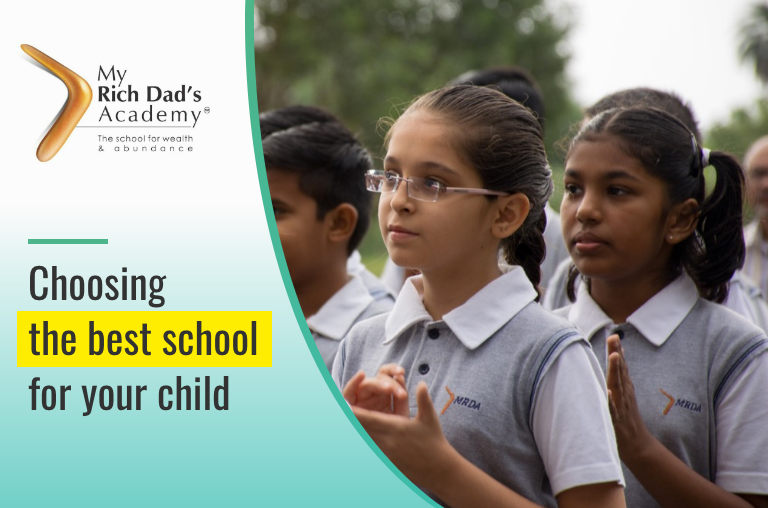 Want to enroll your child in a school that can provide holistic development, nurture their talents, and set the right foundation for a bright career? Well, the dilemma of choosing a school is real. Most parents panic during the admissions as they want the best school for their child, but not sure if they choose the best one. The education sector is booming in India. If you live in a city, expect to find at least two big schools within 10 km from your home. This makes decision-making a tedious task for parents. Being one of the best boarding schools in Jalna, MRDA interacts with parents quite often. We understand this dilemma and hence curated this list of tips for choosing your child's best school. Let's check it out.
Know Your Child
The best school hunt begins at home by understanding your child. There are many schools with different pedagogy, affiliations, curriculum, etc. The first thing you need to know is what your child really needs? Does he/she need a school that encourages holistic development or more interested in academics to achieve certain goals? Many kids these days are more inclined towards sports, extracurriculars. Is your child one of them? When you understand your child's requirement, shortlisting the best school will become an easy task.
Quickly Ask Yourself
What interests your child? (Learning, Sports or both)
Is your child interested in creative arts?
Which language medium of instructions will be ideal for your child?
Are you looking for an ICSE board or any other?
Now, you can make decisions better as you have a fair picture of a school in your mind. Check all the schools near you and shortlist the ones that have all the features to become your child's ideal school. Many parents may find it difficult to answer if their child is about to enter the education world. For Preschool level students, it is ideal to look for a school that can provide the proper foundation for your child. Do not compromise at this stage of schooling. Although basics, it has a significant impact on a child's interest in education, focus span, and more.
Connect with the Shortlisted Schools
Parents can start streamlining the schools at this stage. You must make an appointment for your child's admission enquiry. Make a visit to the school, analyse the school campus, check if it has good classrooms, playground area for students, interact with the teachers, administration staff and more. This way, you get multiple sources of information about the school, and you will be able to make the big decision in a better way.
Feel free to ask these questions in school
How do they motivate students in a school environment?
What are the certifications & qualifications of the school faculty?
Is the school campus secure? How do they ensure security?
How do they track student performance?
How often do they give homework?
What are the other activities they do apart from studies?
Do they balance between academics and life skills?
What is the future scope of students studying in their school?
Talk to Parents
Let's be practical. You can ask any school about the cons, and they will tell you none. Here comes the role of honest reviews. Word of mouth and opinions are essential for your final decision. You can connect with fellow parents who have come for admission or already have enrolled their children in the school. Parents of existing students can guide you more on your school choice. Their suggestion about a particular school comes from experiences – may be good, bad or average. Indeed, the best advice that you could get on the journey of choosing the best school for your child.
Time to Decide
By this stage, you may have 2-3 schools on the list. Take a deep breath, recollect all your school experiences so far. Think about which school made you feel more connected and trustworthy. Ask your child whether he/she is excited to go to that school. Indian parents often overlook a child's choice. However, if your first time schooler doesn't find it exciting, you may end up making him/her feel miserable about schooling life. So, take a 360-degree view and take the final call.
All feel good? Hooray! You've finally found the school that seems just perfect for your toddler. Fill the admission form, get set to enrol your child on the school. If you are looking for the best boarding schools in Jalna, we are here for your child's holistic development. MRDA Day Cum Boarding School is the best place to nurture the little curious minds through a comprehensive ICSE Board curriculum and essential activities to teach life skills (that genuinely help in life). We have Preschool ( PG to Sr. KG) and school (Std 1st to 10th). Give your child the gift of quality education with MRDA.
Admissions Open For Academic Year 2021-22.
To learn more about the admission procedure, click here.