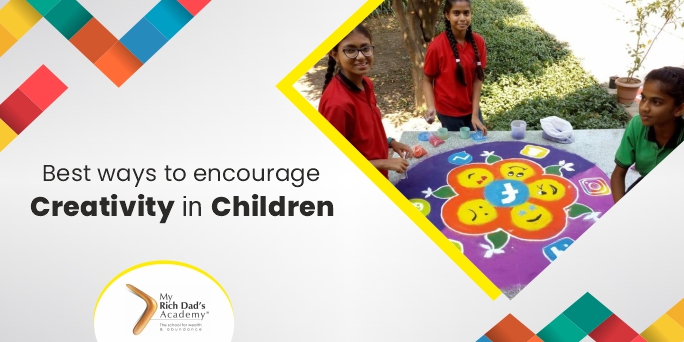 "Creativity is the ability to create items that inspire and inform others, often in aesthetically pleasing ways."
– Aldo Sarellano
Have you ever heard people saying 'this child is born creative'? Well, this isn't the case always. Creativity is inborn and can also be learned. Most creative people are the ones who get exposure to creativity in their growing years. This is the reason parents try to engage their children in different creative activities. MRDA, being one of the best ICSE schools in Jalna, understands the importance of creativity. We curate opportunities that can motivate students to explore their ideas, passions, and opinions. Let's see the ways parents can encourage the love for creativity in children.
MUSIC & DANCE
Music is considered the language of the soul. It is something everyone cherishes. Most of the successful singers are those who started learning music at a very young age. Years of practice and deep understanding of the vocals and instruments help children to reflect their creative side in a musical way. Similarly, dancing has its benefits. Every new beat gives an opportunity to be creative, flexible and moving. If your child is interested in songs, he/she is most likely to enjoy singing and dancing to the beats. At MRDA, we have dedicated Music Teachers for all student grades.
MEDITATION
Yes! Meditation can help your child enhance creativity levels. Mindfulness meditation is one of the most adopted forms of meditation in schools. This type of meditation is said to increase attention span, boost more creative ideas, and attain a positive life attitude. Teachers often ask students to perform these meditative activities without judgment and curiosity to find what happens next? The calmness of the moment brings out creative ideas. Daily meditation eventually becomes a habit where children realign their mind state and enjoy the creative side of their life.
DRAMATICS
Drama is like a gentle break from mundane life. It gives you a breath of fresh air to feel, see, and perform as someone else. This is a sheer work of creativity. You can bring your creative imagination to life with the help of Drama. Learning acting and drama skills at an early age enhances skills such as teamwork, attention, vocabulary, public speaking confidence, passion for literature and a lot more.
ART & CRAFT
Your child doesn't like chaos? Art & Craft can bring him/her internal peace. It engages children at different levels as it supports creative thinking, visual learning, stress relief, self-esteem and lots more. The highlighting factor being Creativity; it is indeed one of the best ways to give your child a creative exposure to learning. After all, Art without creativity is no art!
SPORTS
Many parents feel that sports activities are optional. Trust us; your child needs sports to develop essential life skills such as creativity, leadership, sportsmanship, a winner's attitude, teamwork, play-study balance and more. At MRDA, sports are compulsory every day. We prepare students for various indoor & outdoor sports activities. Students' active participation in inter, intra, district and national level competitions keeps students super excited for sports throughout the year.
Opportunities for creativity are infinite. Are you ready to encourage the creative side of your child along with top-notch academic standards? Get in touch with us.
For Admission Enquiry, Click Here.